I love preserving food! It's so nice to know that you have meals ready to go in your pantry and freezer. And when I've spent so much time saving seeds, and growing my own food, I can't stand for any of it to go to waste!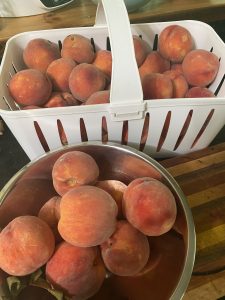 Plus that self-sufficient feeling of having what we need, and not having to rely on the industrialized food system, makes it all the better. 
But how do you get to that stocked pantry status? You'll need to ferment, pickle, freeze + can all those goodies you've been gathering from your garden and farmers markets! 
One thing I find super helpful, is preparing for the canning and food preservation season. Because next thing you know, you are overflowing with produce and you'll want to be prepared! I'm known to visit a U-Pick Farm, and go a little crazy. And it's no fun to get home and realize you have a counter full of food and then it's a race to eat it before it goes bad.
Plus, I've definitely bought bulk produce with the best of intentions of turning it into delicious jam or spicy pickles, only to realize I'm missing a key ingredient. I've always wanted a "master list" of what I need on hand to handle all of the preserving.
So, I present this post as your guide to being prepared for all the fermenting, canning, pickling, and freezing.
If you have these supplies on hand, you'll be ready to preserve anything you aren't ready to eat fresh! 
Don't know how to can food? That's OK!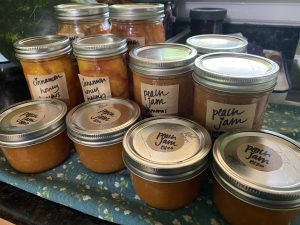 I've been canning for several years, but I'm still not an expert. I have relied on learning from experienced canners and always review the process + safety tips before I start. And I've gathered those trusted + helpful resources here for you! 
For meats, vegetables, broth, and other low-acid foods, you'll need some specialized equipment, like a pressure canner. But for this post, I'm going to focus on what you need for the items you'll most likely want to be preserving through fermenting, pickling, water-bath canning or freezing. Use these lists as your one-stop shopping list! PLUS I've included two recipes for some super-unique pickles! 
What Supplies You'll Need:
Good news is- you don't need too many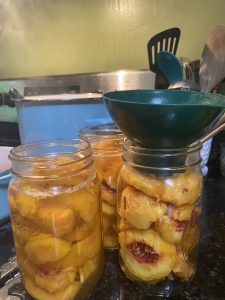 specialized supplies to get started preserving food. Mostly just jars, lids and a deep stock pot if you're planning to water-bath can. But your freezer is a great space to preserve pestos, herbs, and even fresh fruits + veggies! 
Jars- Ball or Kerr brand, can be used

*NEW* lids and rings

Funnel 

Canning Pot OR Large, Deep Stock pot with a lid

Bowls of various sizes- glass or

stainless steel 

Freezer space 

Ice cube mold (large size like

Whiskey Ice Cube molds here

)

Cookie sheet

Freezer Ziploc Bags or eco-friendly

Stasher Bags

Labels 

Apple Peeler-Corer-Slicer

Blender or Food processor 

freezer paper
Ingredients:
Sugar

Brown sugar

Honey

Pectin (Ball's RealFruit, and/or Pomona's Universal)

Bottled lemon juice 

An unsweetened fruit juice (pear, apple, white grape)

Garlic 

Onion

Apple Cider Vinegar (we love Bragg's ACV!)

White Vinegar

Extra Virgin Olive Oil

Fine or coarse Sea Salt

Black Pepper 

Herbs (dried or fresh): Cinnamon sticks, dill, fennel, rosemary, basil, thyme, oregano, bay leaves, cloves, pickling spice mix, allspice, and any other favorites you have.

Ginger + Turmeric (fresh or dried) are also fun to add to recipes! 

Resources on Canning: 
Recipes:
Did you know you can keep and eat those beautiful colorful swiss chard stems? Or what about all that watermelon rind? Don't let anything go to waste! See recipes below: 
Refrigerator Pickled Watermelon Rind
: wonderful as a garnish for a Bloody Mary
8 c. water
4 c. watermelon rind (cubed into chunks)
4TB salt
2 c. sugar
1 ¼ c. apple cider vinegar
8 whole garlic cloves
8 whole black peppercorns
2 cinnamon sticks
½ tsp pickling spice mix
¼ tsp allspice
¼ tsp ground ginger
Directions:
-combine water and 2 TB salt, bring to a boil
-add rinds, boil to tender (approx 5 minutes, but make sure they are tender!)
-strain, and tightly pack rinds into jar(s)
-combine remaining salt, sugar and ingredients in saucepan
-bring to boil, stir to dissolve sugar
-pour over rinds, keep submerged
-cover and refrigerate 8 hours OR overnight
-strain liquid, bring to boil again, pour over rinds, cover and refridgerage 8 hours OR overnight
-repeat steps one more time
-store in the fridge
Pickled Swiss Chard Stems

:

toss on top of salads for a tangy crunchy topping!
1 bunch Swiss Chard Stems, leaves removed
½ red onion, thinly sliced
1 c. distilled vinegar
½ c. sugar
1tsp salt
½ tsp celery seed
2-3 TB sriracha sauce
Directions:
-combine ingredients in a sauce pan and bring to boil, dissolving sugar
-Raw Pack: which means to pack the jar(s) with raw chard stems, and then pour hot liquid over the stems until they are covered in liquid, leaving ¼-½ inch headspace in your jar
-water bath can jars for 15 mins
**Please review trusted sources on canning for more specifics on how to properly pack jars and altitude adjustments for canning